"You're hired" - How apprenticeships can help develop your business #
Apprenticeships have been in the media spotlight in recent months as the Government's introduction of the Apprenticeship Levy in 2017 to help businesses fund the training of apprentices has struggled to help in its ambitious target of creating three million apprenticeships by 2020.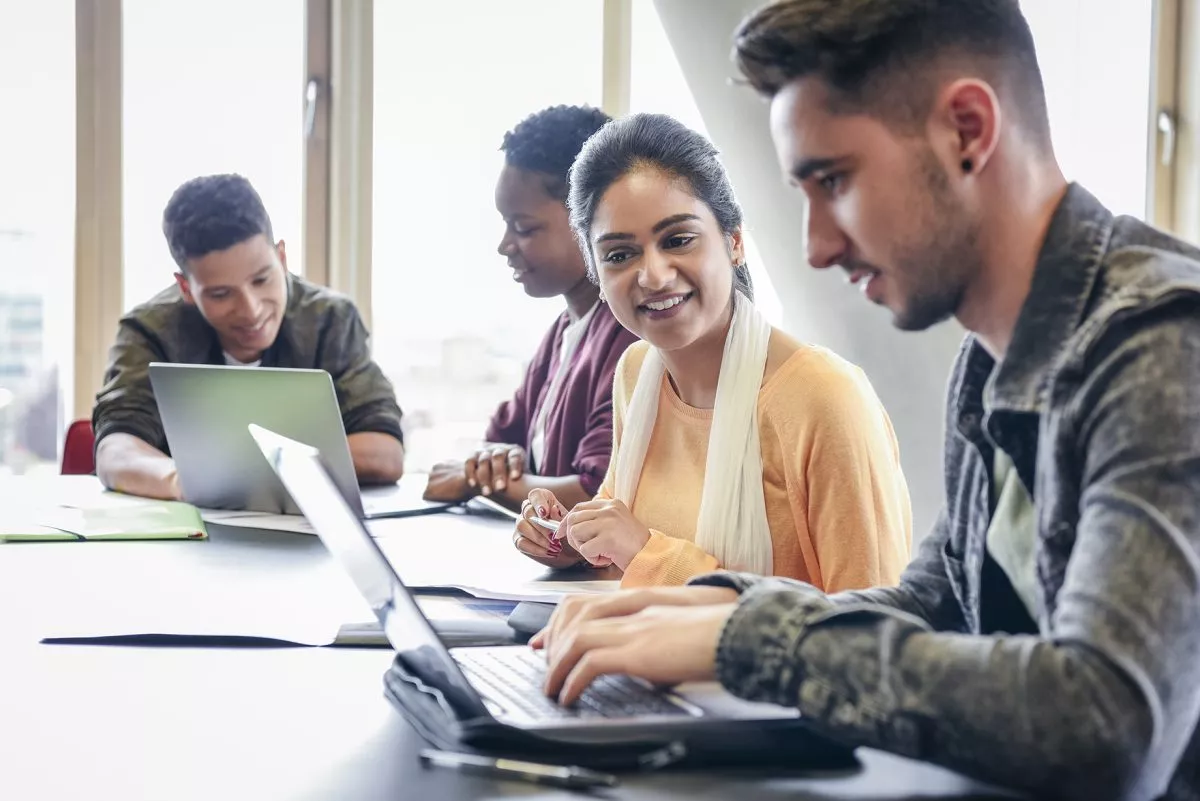 Apprenticeships have been in the media spotlight in recent months as the Government's introduction of the Apprenticeship Levy in 2017 to help businesses fund the training of apprentices has struggled to help in its ambitious target of creating three million apprenticeships by 2020.
Criticism about the complexity of the levy and the still widely held perception by many employers that apprenticeships are only useful for more 'hands on' jobs have seen the numbers of new people taking up apprenticeships plummet over the last year.
Despite these negative headlines, we believe apprenticeships have had a hugely positive impact on our business. So much so, we've recently been shortlisted in two prestigious national awards (UK National Call Centre Awards and Comms Dealer Sales and Marketing Awards) for our apprenticeship programme.
Why did we set up an apprenticeship scheme?
We embarked on our apprenticeship programme in 2016 to support our ambitious growth plans with four apprentices in our Technical Support and Customer Services teams. Since then our joining with CityFibre has further accelerated these plans and we have expanded our programme with further placements in our Technical Support Team, Network Operations Centre (NOC) and Software Development team.
In a complex industry like ours ensuring that we recruit, nurture and develop talented and enthusiastic people is crucial to the long term success of the business. We also care passionately about supporting the local community and economy and aim to be an employer of choice within the area.
Despite the fact our apprenticeship programme was initially set up to meet our recruitment needs, we were also clear that this should not just be a short term fix for job vacancies but a long term plan to recruit young, local people and invest in their futures by helping them develop and grow in their roles or other job opportunities within the business.
By adopting this approach we hope to benefit from retaining well skilled and engaged people within the business. This has already proved successful as two of our Customer Service Operatives, who joined as apprentices in 2016, have progressed to permanent employment with us whilst continuing their studies at Level 3 with our continued support.
What our apprentices say...
Daniel Saxon, Customer Services Apprentice, said: "After my first full year at Entanet I can say that I am thoroughly enjoying it and I was over the moon to be offered my Level 3 Apprenticeship on a permanent contract. Not only did Entanet offer me my Level 3 on a permanent basis but it was a lot higher than the minimum wage for the position. This showed me that Entanet wanted to keep me and they saw me as a very valuable member of the company. My ambitions are to stay at Entanet and progress higher within the company, especially with the CityFibre deal I feel like this is the perfect place for me to grow as an individual and on a professional level.
Hannah Jinks, Customer Service Apprentice, said: "I have recently passed my Level 2 Apprenticeship Programme at Entanet and am thrilled to have accepted the offer of continuing the course to Level 3 and even more excited at the fact I have also been offered a permanent contract, with higher pay than expected and much higher than minimum wage! I feel my contribution to Entanet over the past year has been recognised and appreciated because of this.
"I hope to stay at Entanet and progress within the company gaining further qualifications and experience in the workplace which will be vital to my career. Entanet make these ambitions possible to achieve by promoting from within and offering training programmes. I thoroughly enjoy working here and would be more than happy to recommend the company's apprenticeship scheme to anyone interested."
But how do you implement a successful apprenticeship scheme an ensure you attract the best talent? Here are our top tips:
1. Find the right apprenticeship training provider
Choose your training provider partner carefully. Working with our local college (TCAT) and University (Staffordshire University) allows us to recruit within our local community. Both TCAT and Staffordshire University have long standing experience in providing and developing apprenticeship schemes to similar local businesses making their course content a good fit for our requirements.
2. Be clear on the attributes you're looking for
Apprentices are not going to be the finished article straight away, however we have found that taking on apprentices with related academic qualifications and hobbies certainly make for strong candidates. In an industry like ours where quality of service is all important, a basic level of 'life experience' especially in terms of dealing with customers even if only from part-time jobs in retail or hospitality has also proven useful. This experience of the 'working world' also equips candidates to hit the ground running with a better understanding of what we expect from them as an employer.
3. Have clear communication channels
It is important to have open and honest communication channels with your apprentices, as their feedback is crucial to ensuring the qualification is meeting their requirements and the needs of the business. If you're looking to develop your apprenticeship programme as we have done the views and opinions of your current apprenticeships on what works will help you to tailor your training to attract the best quality candidates.
4. Treat your apprentices like any other member of the team
From day one we make every effort to integrate our apprentices into their teams so they are treated no differently from any other member of staff. Entanet offers apprentices the same benefits as contracted employees, including flexible working hours, annual leave entitlement, a pension and a health cash plan. Our apprentices also receive regular reviews with their managers as part of their apprenticeship programme to discuss their ongoing performance and identify any knowledge gaps and further training requirements as contracted staff.
5. Let apprentices see the wider business
Giving apprentices the chance to experience other departments not only gives them a more in depth knowledge of the company, it also enables them to experience and identify other opportunities within business that they may not have initially considered and which might be a closer match for their interests and skill set. We set up half day placements for our apprentices in other departments which has proved a hugely successful part of their induction, so much so we now ensure all new starters to the business have the chance to do the same.
The bottom line
Possibly the strongest endorsement of the value an apprentice can bring to your business lies in the figures. Since Entanet's apprenticeship scheme was introduced the business has seen a significant increase in customer's overall satisfaction as measured by its Net Promoter Score (NPS).
Within the first full year of Entanet running its apprenticeship programme the company saw an increase in revenue of 4.7%, proving that through strong investment in its people the company can also achieve its financial objectives.
Have your say!
Does you business run a successful apprenticeship scheme or are you thinking of introducing an apprenticeship programme? We'd love to hear your apprenticeship experiences or thoughts on what apprentices could bring to your business using the comment function below.
Related articles
Further Information
CityFibre News #
With network projects in over 60 cities and construction underway to reach up to 8 million homes