Wayleaves agreement to boost digital access for tenants in Solihull through CityFibre's £25m rollout #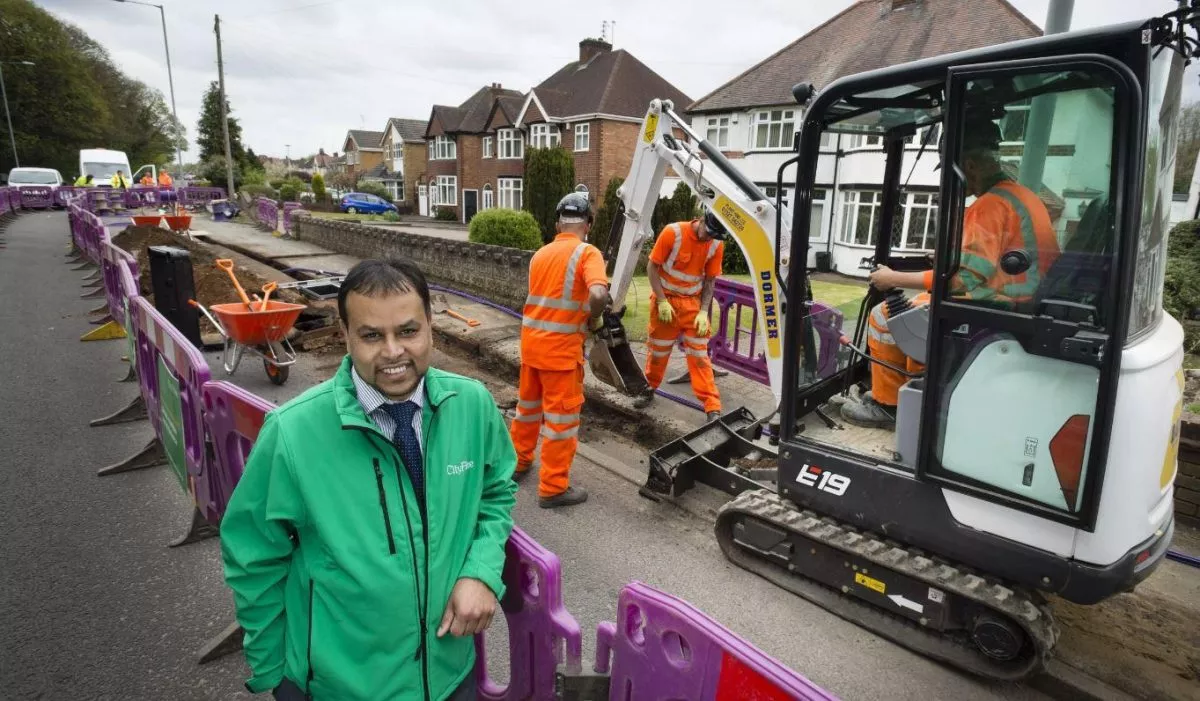 Solihull Community Housing tenants will be among the first in the country to benefit from next-generation digital connectivity – thanks to a partnership between The Metropolitan Borough of Solihull and CityFibre, the UK's largest independent full fibre platform.
Due to the access CityFibre is being granted through wayleave agreements granted by the local authority, more than 4,000 tenant households will now be given the opportunity to experience the benefits of the future-proof network currently being rolled-out across the town, and the consistently fast and reliable internet services it will enable.

Via the blanket wayleave agreement, CityFibre will install full fibre to every property, ensuring the network build can go ahead smoothly and tenants can access better connectivity simply and without delay.
Unlike copper-based 'fibre broadband' services available today, full fibre networks use 100% fibre optic cables to carry data at lightning speed all the way from the home to the point of connection. This gives users consistently faster speeds for upload and download (up to 1,000 Mbps), near limitless bandwidth so everyone at home can work, study, access services, stream or game simultaneously, while providing connectivity people can depend on. 
Bashir Ahmed, CityFibre's Area Manager for Solihull, said: "We all know how important connectivity is today when it comes to accessing services and employment and keeping contact with friends and family. The internet is now a crucial utility, and everyone should be able to benefit from a quality service that is up to the task of supporting our data hungry lives.
"For tenants in particular, better connectivity could help to maximise access to switching services for better utility deals, as well as other services including tenant portals and public service systems, such as those provided by the Department for Work and Pensions and the local council.
"This agreement will make a genuine difference to thousands of people living in Solihull, and we're committed to delivering an efficient, safe and quality network build to as many residents as possible as quickly as possible, so that even more people can benefit."
Julian Knight MP, MP for Solihull said "This agreement is great news for Solihull – ensuring no-one is left behind is critical as we upgrade the UK's digital infrastructure and I'm delighted that a further 4,000 households will now have access to world-leading broadband.
"It's fantastic to see the progress being made with CityFibre's rollout in Solihull, we're now well on our way towards becoming one of the best-connected towns in the UK and the outlook is incredibly promising for our economic, social and smart city ambitions."
Across Solihull, CityFibre is investing £25m in delivering a town-wide network as part of its up to £4bn Gigabit City investment programme, which aims to future-proof towns and cities across the UK with the best network technology available. The build is already progressing at pace, with services now ready to go live in Shirley and Solihull central and builds set to get underway soon in Lyndon, Elmdon and Sill Hill.
As the network is completed in each neighbourhood, CityFibre will designate the homes 'ready for service', which means residents can choose to connect to full fibre-enabled broadband services when they go live in their area. In Solihull customers can sign up to Air Broadband and TalkTalk, with launch partner Vodafone, Zen, Giganet and other providers expected to join the network soon.
Residents interested in giving their home broadband a boost can find out more about the build, pre-register their interest and find out when new ISPs join at https://cityfibre.com/homes
CityFibre News #
With network projects in over 60 cities and construction underway to reach up to 8 million homes