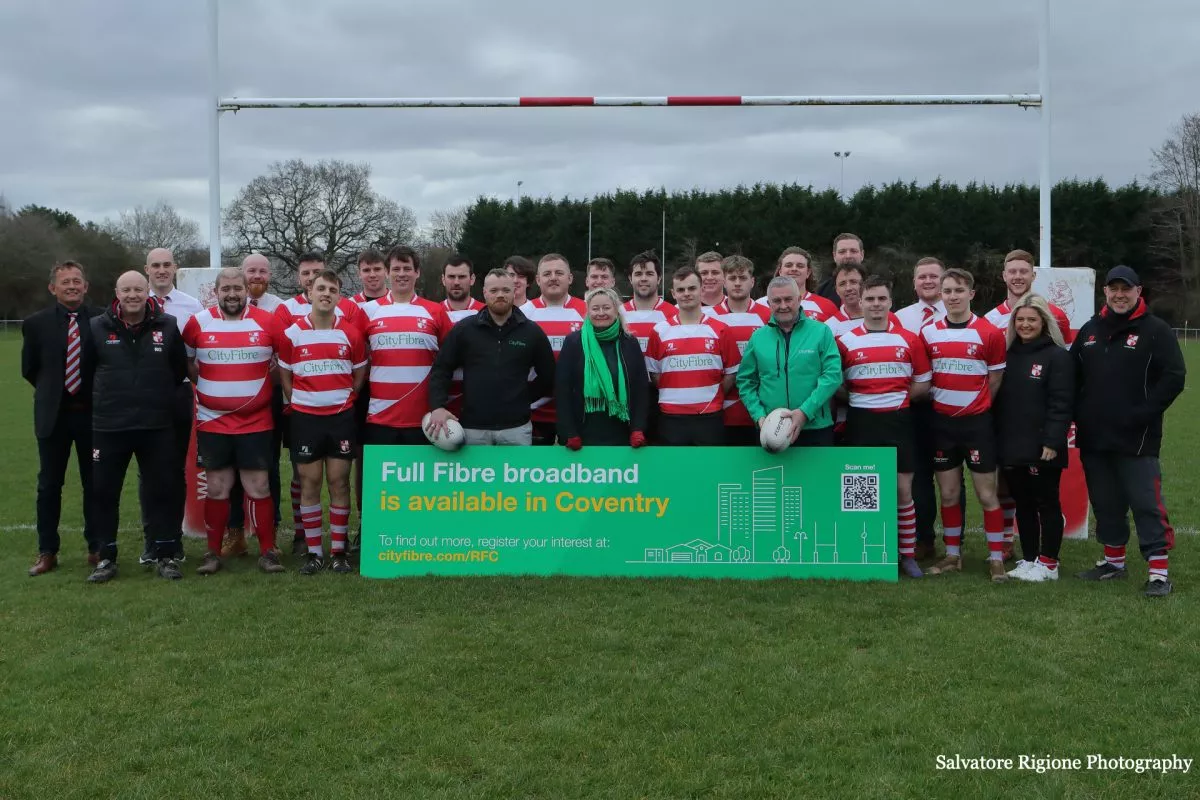 CityFibre, the UK's largest independent full fibre platform, has announced a new sponsorship of Coventry's Earlsdon First XV team to support local sports talent.
Earlsdon Rugby FC was hit hard by the pandemic and their kits became old and worn. As a gesture of support, CityFibre has provided fresh rugby kits for players along with new pitch side hoarding at the club, based in Mitchell Avenue, Canley.
CityFibre is investing £72.5m in Coventry to bring full fibre connectivity - the fastest and most reliable available - to thousands of homes and businesses in the area.
This digital infrastructure investment will serve residents' connectivity needs for decades to come, while also helping to fuel productivity, innovation and economic growth in the local area.
Speaking of the donations, Leigh Hunt, CityFibre's Regional Director for the Midlands, said: "We are delighted to support the Earlsdon First XV team, providing new kits for the players.
"This sponsorship is a token of our thanks to the residents of Coventry for their support as we roll out our state-of-the-art full fibre network in the area and future-proof the city's digital infrastructure."
Mick Roberts, Chairman of Earlsdon Rugby FC, said: "On behalf of Earlsdon RFC, I would like to thank CityFibre for their sponsorship of the Earlsdon First XV.
"On Saturday 5th March, Earlsdon wore their new CityFibre sponsored shirts for the first time in a league game against Kidderminster RFC and the lads were very excited with the style of the kit.
"The pandemic hit us hard and as a community club, we rely on sponsorship for success. We at Earlsdon are truly thankful to CityFibre and hope that this will be the first of many years of working together."
CityFibre is rolling out its next-generation full fibre network in Coventry as part of its £4 billion Gigabit City Investment Programme which will bring new and better digital infrastructure within reach of up to eight million homes and businesses nationwide.
Across the UK, CityFibre is working with launch partner Vodafone to supply full fibre services for customers on selected Vodafone Pro Broadband plans, as well as TalkTalk and a number of other Internet Service Providers (ISPs), with more providers expected to join the network soon.
Residents interested in giving their home broadband a boost can find out more about the build, pre-register their interest and find out when new ISPs join at cityfibre.com/residential.
CityFibre News
With network projects in over 60 cities and construction underway to reach up to 8 million homes