Coming up roses: CityFibre teams up with McCann & Derby City Council for Mickleover flower displays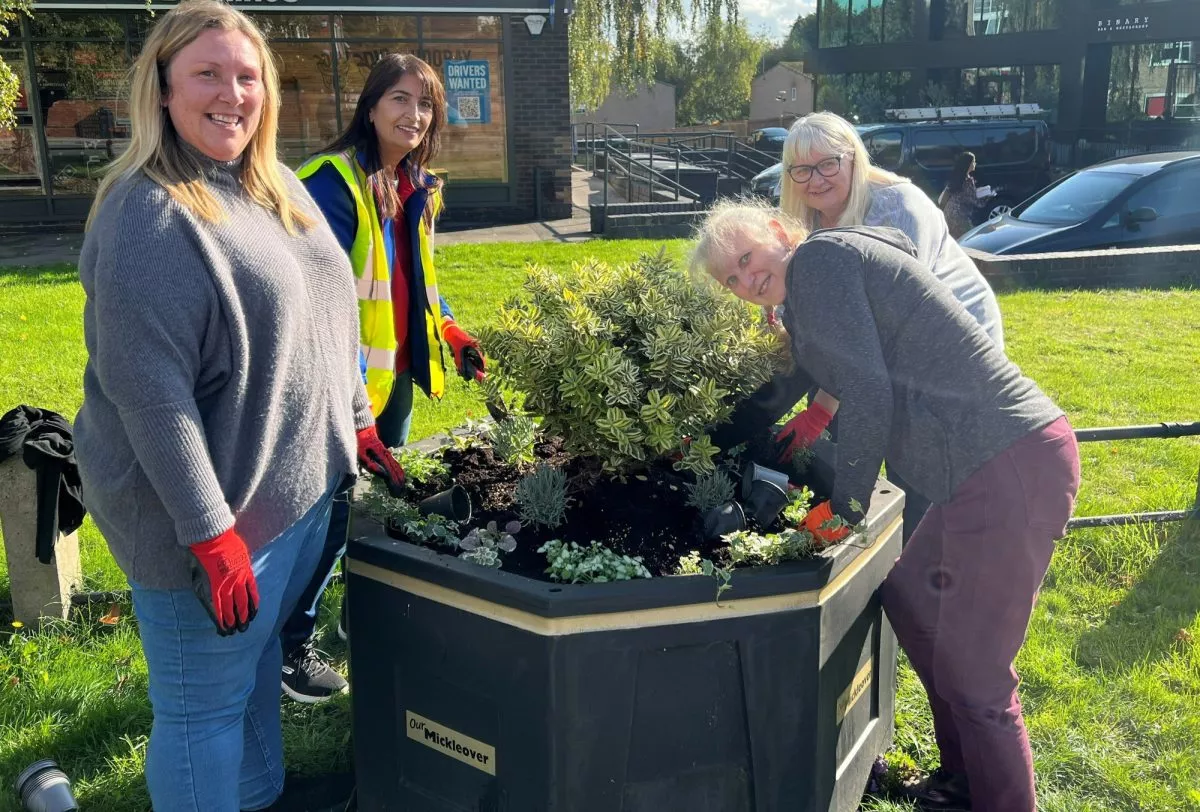 Mickleover has been given a splash of colour just in time for winter after green-fingered representatives from CityFibre, the UK's largest independent full fibre platform, its build partner McCann and Derby City Council, teamed up with community group, Our Mickleover, to plant winter flower displays across the village.
With plants supplied by local independent business, Firs Farm Nursery, the team spruced up the Derby village with a range of blooms, shrubs and ivy in planters across the Parade, Kipling Drive and the Square.
CityFibre and McCann have been building an advanced full fibre network in Derby since March 2020. Once the £50m project is complete, fast and reliable full fibre-enabled internet services will be within reach of almost every home and business in Derby.
With the build continuing to progress across the city, and network construction currently ongoing in the Alvaston, Boulton, Chellaston, Littleover and Normanton areas, the team helped fund the gardening project to thank the local communities for their patience and support throughout the rollout.
Dominika Walker, CityFibre's Area Manager for Derby, said: "It was great to get out and about in Mickleover and meet with the local community. As a team, we're really proud of the progress we're making across Derby, with gigabit-speed internet services now available from over a dozen service providers – but we appreciate that the build process can cause some disruption. Supporting local events and projects like this is a great way of spreading our message and giving something extra back to the community.
"We really want the local community to be as excited as we are and we're eager to help people get to grips with what full fibre is and the benefits it offers. We're enabling residents and businesses to connect to the fastest and most reliable broadband services available and, once the network's built, it will serve the community's connectivity needs for decades to come."
Councillor for Mickleover Ward, Alison Holmes said, "We've worked proactively with CityFibre and their contractors McCann throughout the fibre install across Mickleover and discussed ways in which they could say 'thank you' to residents and businesses for their patience during the works. We felt that supporting the efforts of the Our Mickleover community group with funding for winter flower displays across the ward was a perfect way to do this. It's a great way to make our local area bloom all year round, not just during the summer months."
CityFibre is bringing full fibre connectivity within reach of up to 8 million homes in towns and cities across the UK. Residents interested in giving their home broadband a boost can find out more about the build and pre-register their interest at here.
CityFibre News
With network projects in over 60 cities and construction underway to reach up to 8 million homes