CityFibre's Full Fibre rollout in Wolverhampton can now cover Molineux Stadium over 2,000 times #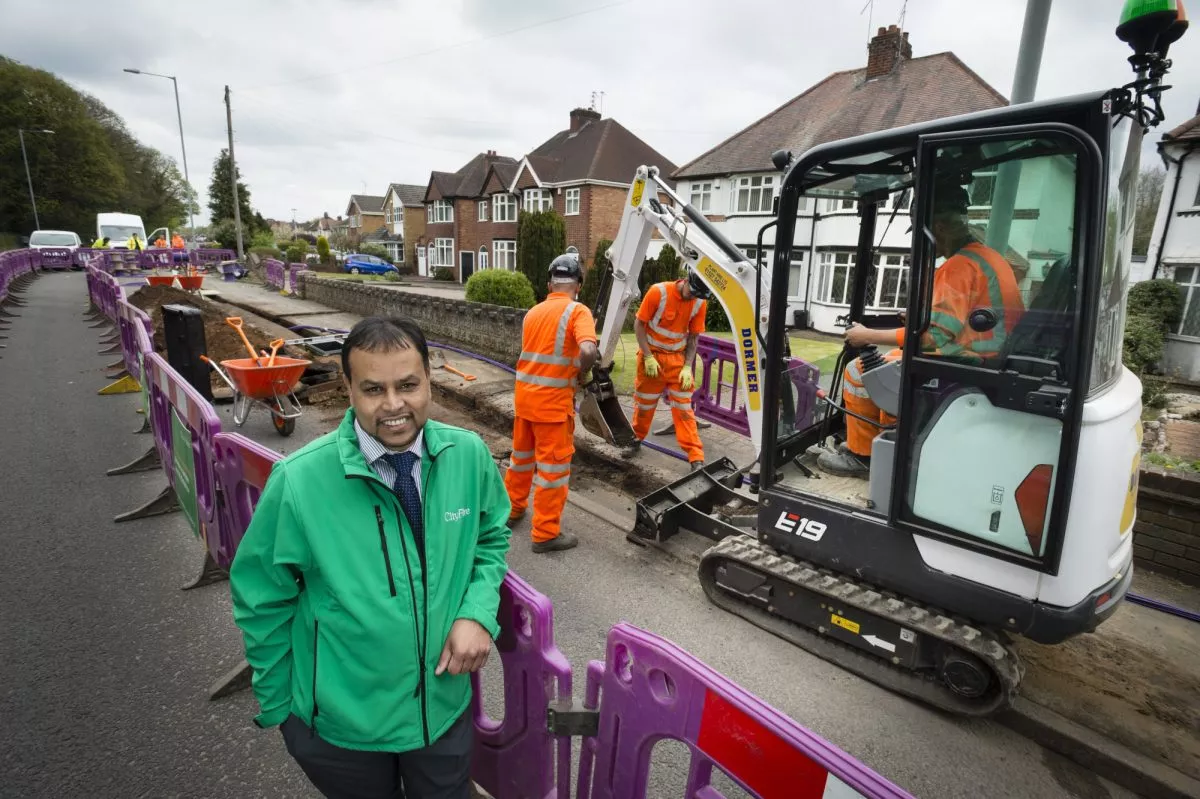 CityFibre, the UK's largest independent full fibre platform, has now laid nearly 200km of full fibre digital infrastructure beneath the streets of Wolverhampton as part of its £50m plan to future-proof the city's digital connectivity.
CityFibre's landmark achievement means there is enough full fibre connecting the city's homes to cover more than 2,100 football pitches at the Wolverhampton Wanderers' Molineux Stadium. Home to the Wolverhampton Wanderers since 1889, Molineux Stadium is an iconic landmark in the heart of the city and was the site of the first ever league game in English history.
As a result of CityFibre's Gigabit City Investment Programme, thousands of residents and businesses in Wolverhampton will soon be able to enjoy access to the fastest, most reliable connectivity available. The rollout, which began in March 2020 and is projected to be largely completed by 2025, will boost business productivity and innovation and deliver millions of pounds in economic benefits for the city, while giving access to the UK's fastest broadband services.
Bashir Ahmed, CityFibre's City Manager for Wolverhampton said: "We are delighted we have now laid 193km of fibre in Wolverhampton, and it really hits home how much progress we have made. We started this project during the height of the pandemic, and the fact that we have managed to carry on and achieve so much during such a difficult time is truly fantastic.
"As a team, we're really proud of the speed of deployment and benefits that full fibre will bring to Wolverhampton, and with our network now live across many parts of the city, we are pleased to be enabling residents to connect to the fastest and most reliable broadband services available."
Jane Stevenson MP, Member of Parliament for Wolverhampton North East said: "I'm delighted that CityFibre's project bringing full fibre to Wolverhampton is continuing at such pace, with the city well on its way to becoming one of the best-connected in the UK. This network is a welcome boost for households and businesses across Wolverhampton who will soon have access to world-class connectivity.
"I recently saw for myself the work that CityFibre is doing in my constituency to get people connected. The digital transformation this infrastructure will bring is a vital part of the Levelling Up agenda, and private investment like this, alongside the Government's £5 billion Project Gigabit, will help to reach our target of nationwide gigabit capable broadband by 2030."
Wolverhampton is one of the first of a growing number of locations in the UK to benefit from CityFibre's £4bn Gigabit City Investment Programme which will bring new and improved broadband infrastructure within reach of up to eight million homes and businesses nationwide.
CityFibre's build partners Callan Connect and Comex 2000 are working in various locations across the city, with work currently ongoing in Bilston East and St Peters ward, and work expected be completed in Tettenhall soon.
As work is completed in each neighbourhood, residents can access some of the fastest and most competitive broadband packages available. In Wolverhampton, services are currently available from TalkTalk with other ISPs set to join the network soon.
People interested in giving their home broadband a boost can find out more about the build, pre-register their interest and ensure they are updated on service availability at www.cityfibre.com.
CityFibre News #
With network projects in over 60 cities and construction underway to reach up to 8 million homes