CityFibre recognised in The Times Top 50 Employers for Women for second year running #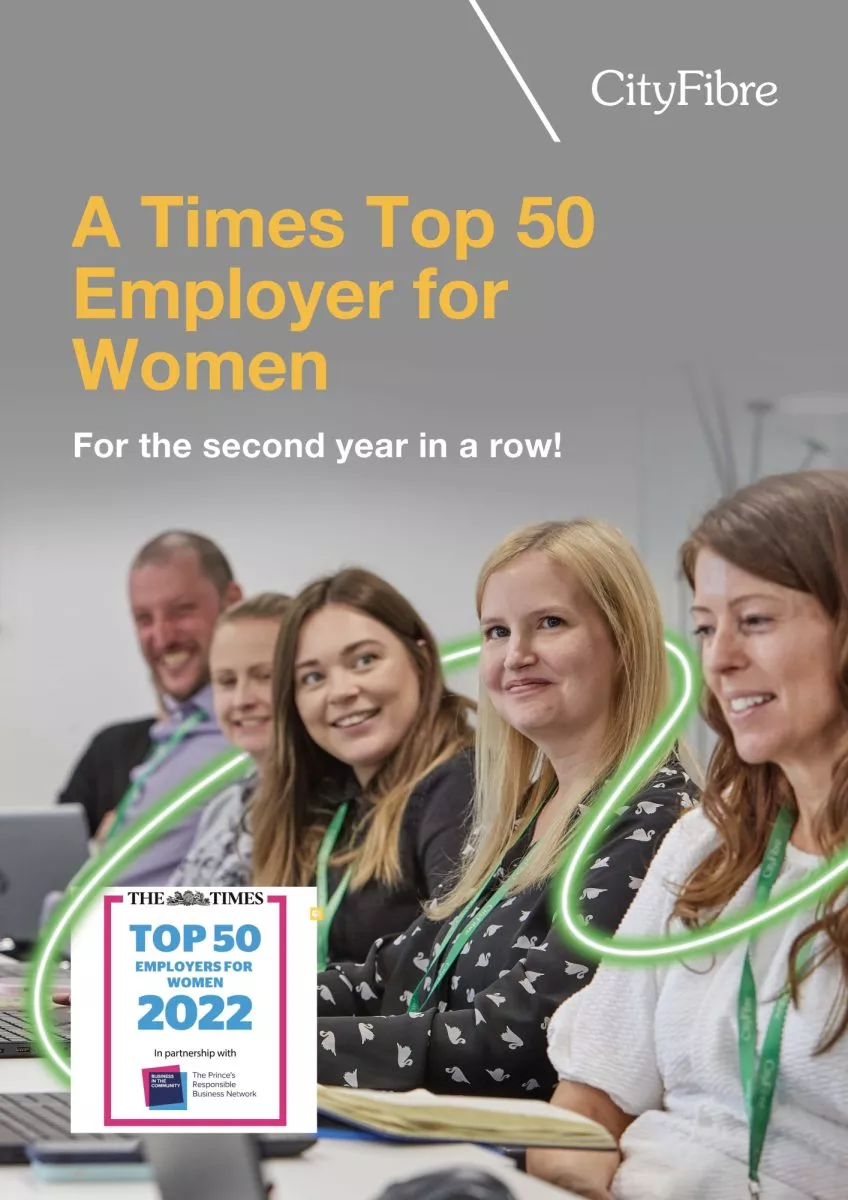 CityFibre, the UK's largest independent Full Fibre platform, has been recognised as one of The Times Top 50 Employers for Women in 2022. It is the second consecutive year CityFibre has received the award in recognition of actions taken to drive gender equality and empower women in the workplace.
The Times Top 50 Employers for Women is the UK's most highly profiled and well-established listing of employers striving for gender equality. Run by Business in the Community (BITC) - The Prince's Responsible Business Network, and The Times for more than a decade, the competitive process identifies companies which make gender equality part of the way they do business, working to embed it at all levels.
CityFibre has a £4bn UK investment programme underway to bring Full Fibre infrastructure within reach of up to 8m homes by 2025. Its diversity, equity and inclusion strategy is critical to achieve this plan. This strategy has seen CityFibre continue to develop its support offerings for women of all ages and backgrounds. Initiatives have included the provision of education and awareness sessions on multiple diversity topics, as well as establishing agile working and launching support services on topics including menopause and domestic abuse.
As a result of the of the measures implemented, the annual CityFibre employee voice survey found that 84% of women would recommend CityFibre as a great place to work, and 90% of women in early careers roles felt they had an equal opportunity to succeed.
Greg Mesch, CEO at CityFibre, said: "Creating and maintaining an inclusive and supportive culture is a central pillar in our strategy to help level up the UK's digital infrastructure. That's why we are thrilled to be recognised as a Top 50 Employer for Women for the second year running.
"We are proud of the progress we have made to date, but we realise there is plenty more work to be done to attract and retain women in our industry. As a company we are committed to ensuring gender equality remains at the heart of our organisation and we look forward to raising the bar still higher next year."

Katy Neep, Gender Equality Campaign Director at Business in the Community, added: "The cost of living crisis following hot on the heels of the disproportionate impact of COVID-19 faced by women has further shone a light on how far we have to go on gender equality. Without action from all employers, we will end up chasing our tails while trying to eradicate the inequalities gap and create truly inclusive workplaces for all women."

"The Times Top 50 gives us hope that we are making strong progress in our goal towards gender equality and in our 40th year we call on all employers to be bolder, braver and faster in achieving that goal."
"This year's application process was the most competitive one we have ever seen. Employers like CityFibre haven't lifted their foot off the pedal when it comes to supporting women at work and they are a strong example of what commitment to making gender inequality a thing of the past looks like."


CityFibre News #
With network projects in over 60 cities and construction underway to reach up to 8 million homes