CityFibre partners with OneStop Junction to bridge digital divide in Adur & Worthing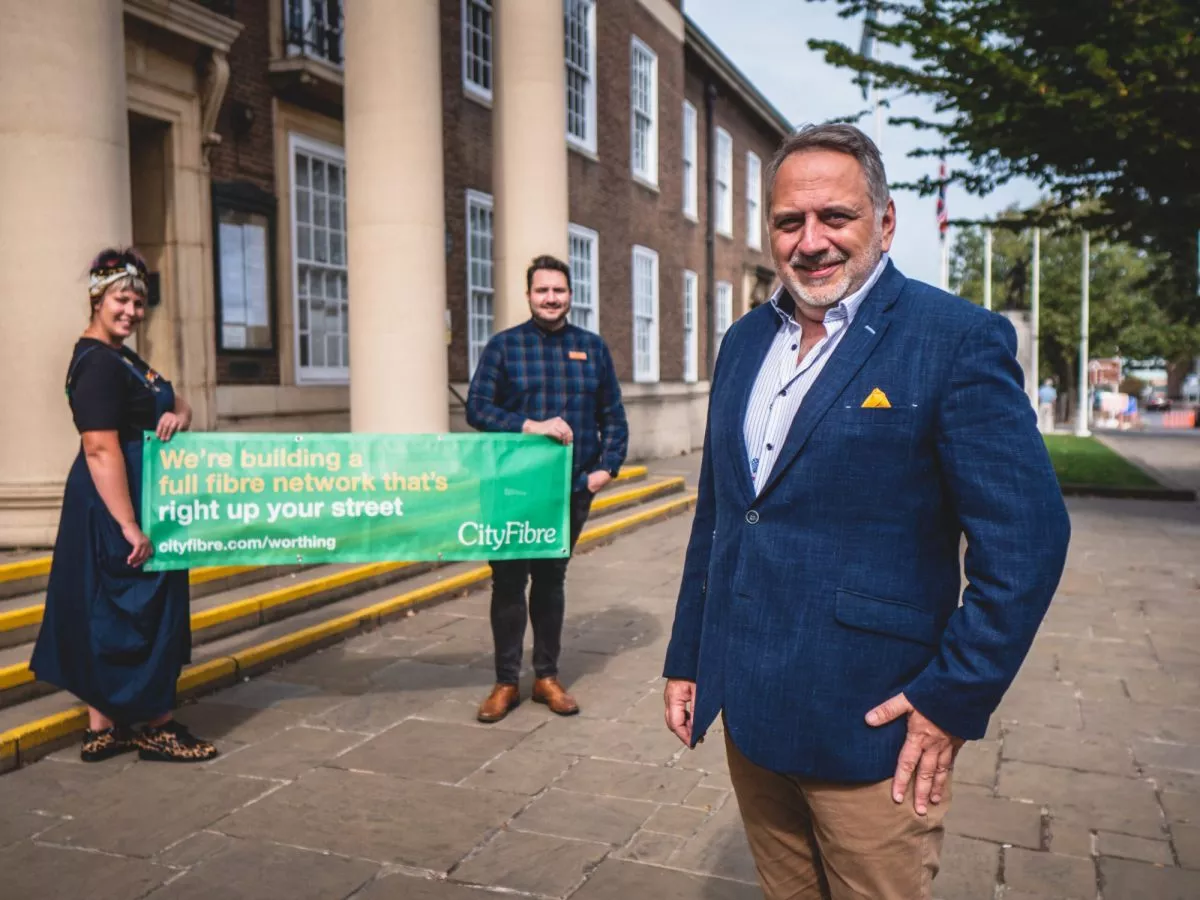 CityFibre, the UK's third national digital infrastructure platform, has signed a year-long sponsorship deal with Adur & Worthing Councils' OneStop Junction service to support its work to equip local people with essential IT and computing skills.
By teaming up with OneStop Junction, CityFibre will support Adur & Worthing Councils' mission to ensure everyone can enjoy the personal, social and employability benefits of digital technology in the Adur and Worthing area.
The sponsorship will help fund the service's 'Digital Buddy' scheme, which sees volunteers share skills with local people who lack confidence or experience in using digital devices and the internet. It will also contribute towards new equipment for service users, volunteer recruitment and promotion of the service throughout the community.
Set up by Adur & Worthing Councils in 2015 to address barriers created by online-only services, residents can access support from OneStop Junction by telephone or by visiting their website*.
Speaking of the partnership, Adrian Smith, City Manager for Adur & Worthing at CityFibre, said: "CityFibre is currently investing at least £25m in transforming Adur & Worthing into one of the world's most digitally connected areas as part of our nationwide Gigabit City Investment Programme. This will increase local access to next generation Full Fibre infrastructure and, at the heart of this district-wide rollout is digital inclusion.
"This is why we are so supportive of the work OneStop Junction is doing to unlock digital access for the whole community. Throughout the pandemic, we have seen just how critical technology is to our day-to-day lives. It has not only enabled us to keep working and stay connected with friends and family, but it has meant that we've still been able to access vital services, including those relating to health and education. Everyone should have the confidence and ability to harness its capabilities."
Councillor Angus Dunn, Adur District Council's Executive Member for Resources, added: "Through this service, local people can learn valuable skills that will benefit them on so many levels, such as operating a computer or tablet, navigating the internet, accessing digital services such as banking, health services and job sites, and more.
"We've already supported thousands of citizens through the service, including over 100 during the pandemic with our Get Online scheme. CityFibre's sponsorship will enable us to assist even more Adur and Worthing citizens, ensuring they can benefit from digital technology and aren't left behind as life moves increasingly online."
OneStop Junction's 'Digital Junction' is part of a national network of digital inclusion groups supported by The Good Things Foundation, a social change charity that helps people to improve their lives through digital.
Councillor Edward Crouch, Worthing Borough Council's Executive Member for Digital & Environmental Services, said: "I've been clear from the off that gigabit broadband is about making sure as many people as possible can benefit from the fastest, most reliable form of internet connectivity.
"This investment is a clear demonstration that CityFibre shares those ambitions, providing vital support to get vulnerable residents online as well as continuing at pace to install world-class digital infrastructure across the borough."
To access the service, simply call 01903 221 400 or visit onestopjunction.org.uk/
CityFibre is currently investing up to £25m in building a full fibre network that will bring gigabit capable broadband within reach of almost every home and business in the Adur & Worthing and futureproof the district's digital capabilities for decades to come.
The network is not yet live, but once activated, services will be available from an increasing range of broadband providers. Across the UK CityFibre is already working with launch partner Vodafone to deliver next generation broadband services, and TalkTalk is expected to join the network soon.
To find out more, visit our gigabit cities page.
[embed]
[/embed]
CityFibre News
With network projects in over 60 cities and construction underway to reach up to 8 million homes