CityFibre partners with Geeks Room CiC to support digital inclusion #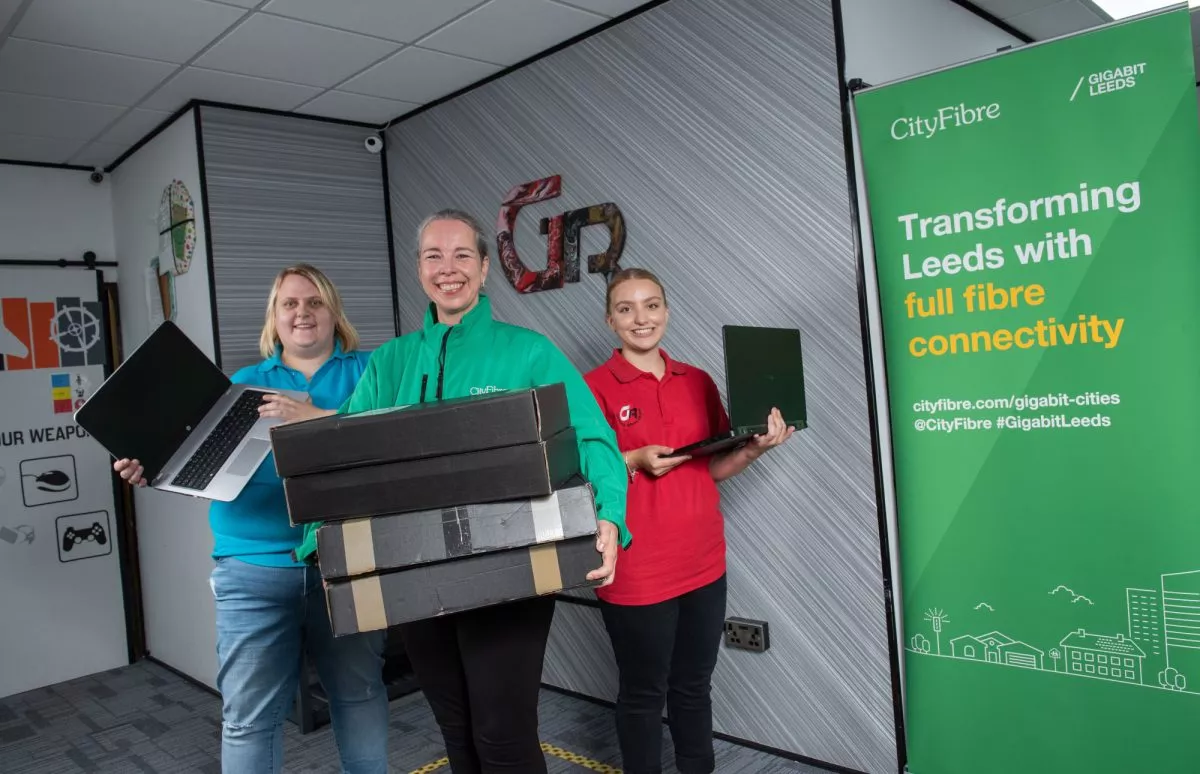 CityFibre has teamed up with Leeds community interest group, Geeks Room CiC, to provide equipment, including laptops and monitors, to support a new programme helping older students gain employment.

Geeks Room CiC provides an alternative environment to the traditional school, with children (aged eight to 18) given the opportunity to learn through gaming (known as Game Education) and practical lessons. Its inclusive approach is intended to pull down barriers and ensure children with differing abilities and needs feel valued, connected to others and able to make positive contributions to the group and wider community.

The team's inclusive centre is host to a range of courses, including coding clubs, technical classes and design workshops. The partnership with CityFibre has enabled them to expand the programme, including additional support for older students (aged 16-25) to help develop employability, educational, social and life skills.

Kim Johnston, Regional Partnership Director, CityFibre, said: "Digital exclusion is such a major challenge for people in the region, so helping these leading initiatives that enable access and build confidence is very important to us as we work to bring future-proof connectivity to Leeds.

"We're delighted to support the essential work of Geeks Room CiC in helping young individuals that may fall through the gaps of traditional education, by building their confidence and abilities through tech and gaming."

Becky Wetherill, Head of Management and Communication at Geeks Room CiC, added: "At Geeks Room CIC, we want a future where a child's ambitions are never limited by their circumstances and learning styles.

"We believe in applying our passion and dedication to each and every young person who steps through our doors, as well as striving to make every person's experience the most nourishing and enjoyable that we can. Technology donations play an essential role in this and we are grateful for CityFibre's support as we expand our offering even further to help students gain employment."

Geeks Room CiC, based in Armley, is in the build area of CityFibre's state-of-the-art full fibre roll-out, meaning its residents will soon be able to access the fastest, most reliable connectivity available. Construction of the network formally began in 2019 and upon completion, it will be in reach of nearly every home and business in the town.

To find out more about Geeks Room CiC visit: https://www.geeksroom.org.uk/

Residents interested in full fibre broadband can pre-register their interest with CityFibre to receive information when services are available, or check their postcode to see if
CityFibre News #
With network projects in over 60 cities and construction underway to reach up to 8 million homes