CITYFIBRE INTRODUCES FABIAN HAMILTON MP TO FULL FIBRE WORKS TRANSFORMING LEEDS' DIGITAL CONNECTIVITY #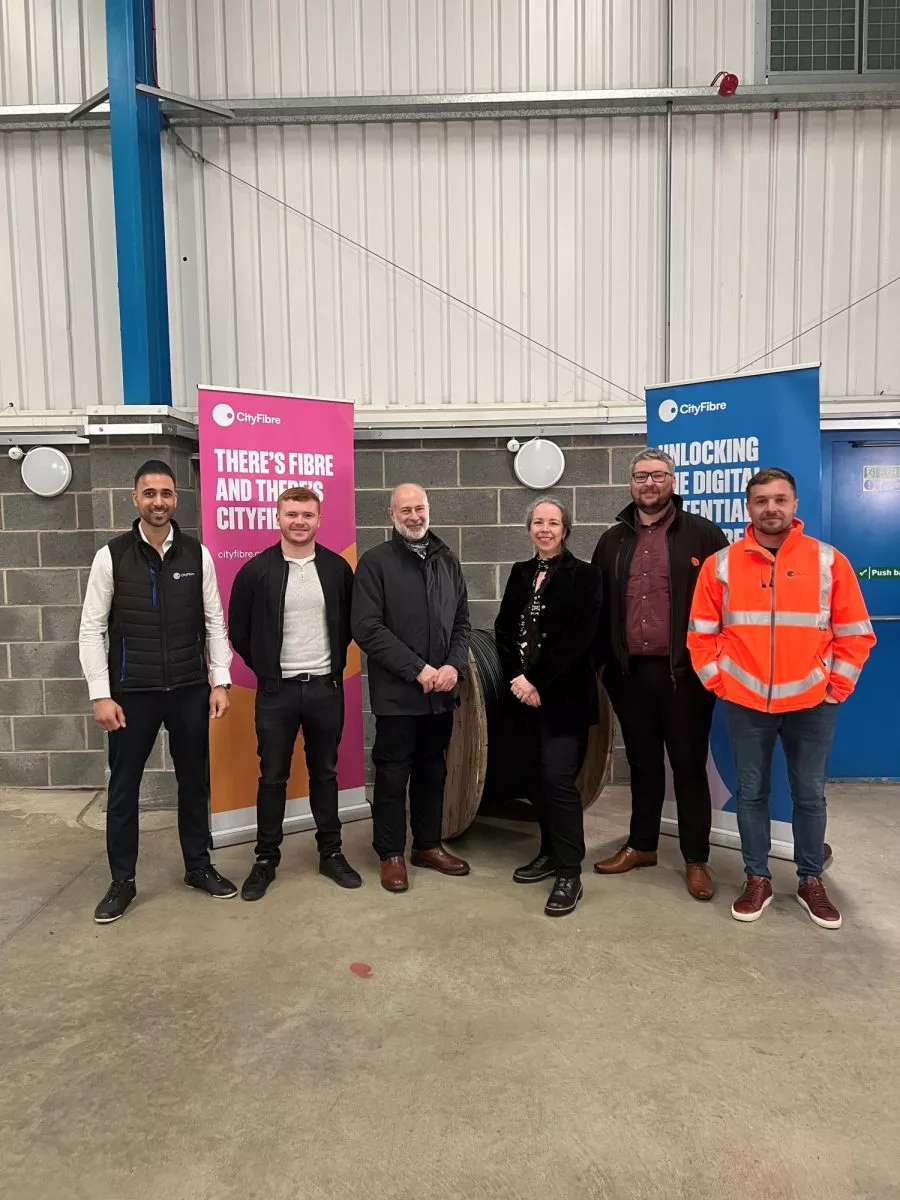 With construction of its full fibre network well underway in Leeds, CityFibre, the UK's largest independent full fibre platform, recently welcomed Fabian Hamilton, Member of Parliament for Leeds North East, for a tour of its Pudsey Fibre Exchange (FEx), giving him a closer look at the city-wide project.
During the visit, representatives from CityFibre and build partner, O'Connor Utilities, introduced Fabian Hamilton MP to full fibre digital infrastructure, the best network technology currently available. The FEx in Pudsey is part of a rapidly growing network of purpose-built, power-efficient, micro-edge data centres used by CityFibre to deliver, manage and monitor live services and data across its network.
Unlike much of the digital infrastructure accessible to households today, full fibre networks use 100% fibre optics to carry data at high speed all the way from the home to the point of connection. This gives users consistently faster speeds for upload and download (up to 1,000 Mbps), near limitless bandwidth and connectivity users can depend on. 
A full fibre connection also goes far beyond simply enabling access to the latest entertainment at lightning speed. As an essential digital utility, full fibre boosts households and businesses alike, with experts saying it will drive a range of economic benefits, such as making us more productive and innovative.
Kim Johnston, Regional Partnership Director for CityFibre, said: "Leeds was among the first projects that we announced so it is amazing to see the network grow, with more addresses going live day by day. We cannot wait to see how the city will benefit in the years to come and it's fantastic to have the support of Mr Hamilton and our local communities as we transform the digital capabilities of the city.
"According to recent Hatch research, in Leeds alone, our full fibre network is expected to unlock £972 million in productivity and innovation, as well as deliver a £406 million increase in house value so there's a significant economic boost to look forward to."
Construction is being delivered by O'Connor Utilities on behalf of CityFibre. The team is using a range of construction methods while working in close partnership with Leeds City Council and local communities to deliver a fast rollout while managing potential disruption.
As the network is completed in each neighbourhood, CityFibre will designate the homes 'ready for service', which means residents can choose to connect to full fibre-enabled broadband services when they go live in their area.
In Leeds, customers can choose to connect to full fibre services from CityFibre launch partner Vodafone, as well as TalkTalk, Giganet, Zen and many others.
Residents interested in giving their home broadband a boost can find out more about the build and register their interest at www.cityfibre.com/PR
CityFibre News #
With network projects in over 60 cities and construction underway to reach up to 8 million homes