CityFibre expands partnership with Kelly Group for nationwide customer connections #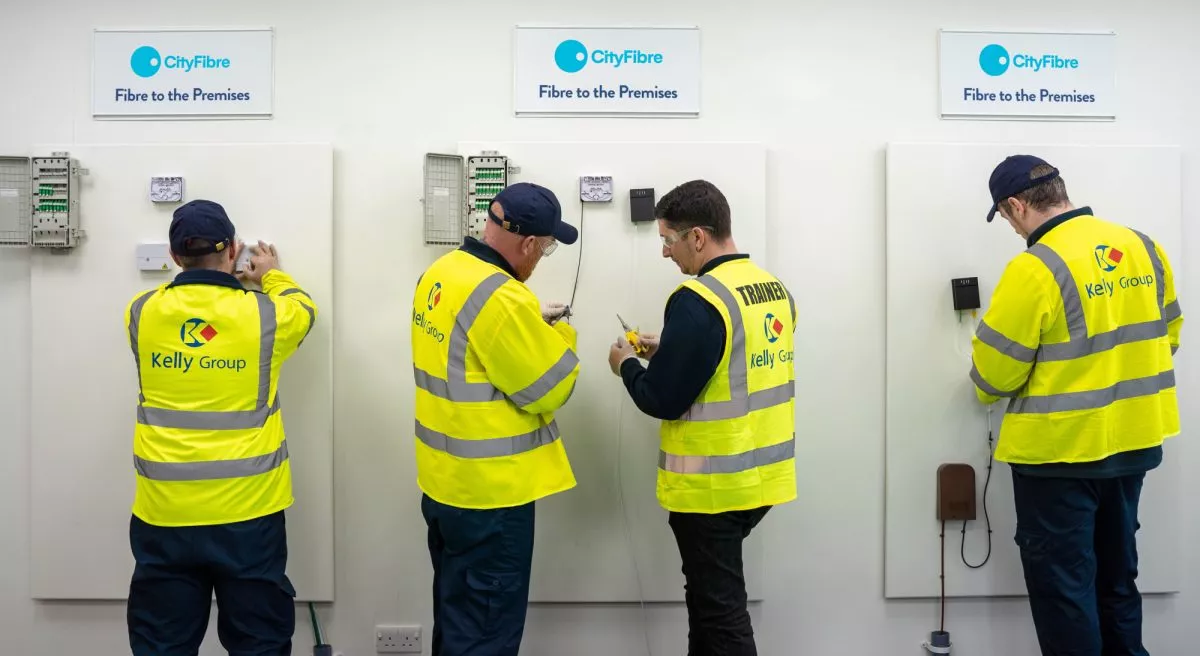 Expansion of partnership will create over 1,000 high-skilled jobs with Kelly Group.
CityFibre and Kelly Group achieved 91% 'Right First Time' installation scores setting a new industry benchmark.
CityFibre, the UK's largest independent full fibre platform, has appointed Kelly Group as its preferred supplier for customer connections across CityFibre's nationwide full fibre rollout to up to 8 million homes. To date CityFibre and Kelly Group have achieved an industry-leading 91% 'Right First Time' (RFT) score for customer connections across the country.
Kelly Group's preferred supplier status will enable it to scale its operations nationwide, undertaking customer connections on behalf of CityFibre's ISP customers across its entire footprint.
As a direct result of the partnership, over 1,000 jobs including up to 920 engineers, additional Team Manager roles, New to Field Coaches, Technical Trainers and Logistics will be created by Kelly Group to fulfil the rapidly increasing volume of customer installs.
To support Kelly Group's recruitment plans the company will work with various agencies including Route 2 Work, a specialist in identifying candidates from disadvantaged backgrounds. The internal recruitment team at Kelly Group will also target former military personnel through the Career Transition Partnership run by the Ministry of Defence.
Successful candidates will attend an Installation Training Course at one of Kelly Group's state-of-the-art training centres in Brimsdown, Nuneaton or St Helens. During this course they will attain overhead and underground safety qualifications, Streetworks 01 qualification, PIA accreditations, CityFibre Installation Training and Customer Service Training. Kelly Group are forecasting a total group headcount of circa 3,800 heads by the end of 2022.
CityFibre's rollout has now passed more than 2m premises. Over 1.8m of these homes are Ready for Service across 67 metropolitan areas, enabling residents to get connected in as little as 5 working days. To date more than 30 ISPs have launched services over the network.
Greg Mesch, Chief Executive Officer at CityFibre said: "We are delighted to be extending our partnership with Kelly Group and working with them to make sure people up and down the country can take advantage of full fibre as quickly and as smoothly as possible. At the centre of our nationwide rollout is our tireless focus on the installation journey which is now setting a new benchmark for customer satisfaction in our industry."
Tim Kelly, Kelly Group Chairman added: "We are delighted to be selected as CityFibre's partner of choice, helping to support its expansion strategy by providing full fibre customer connections across its continuously expanding network. Our proven track record in delivering volume quality connections, will ensure we at Kelly Group will be a key partner with CityFibre, on their journey to provide full fibre connectivity to millions of homes across the UK. We have an excellent working relationship and partnership with CityFibre and very much look forward to this continuing for years to come."
CityFibre News #
With network projects in over 60 cities and construction underway to reach up to 8 million homes