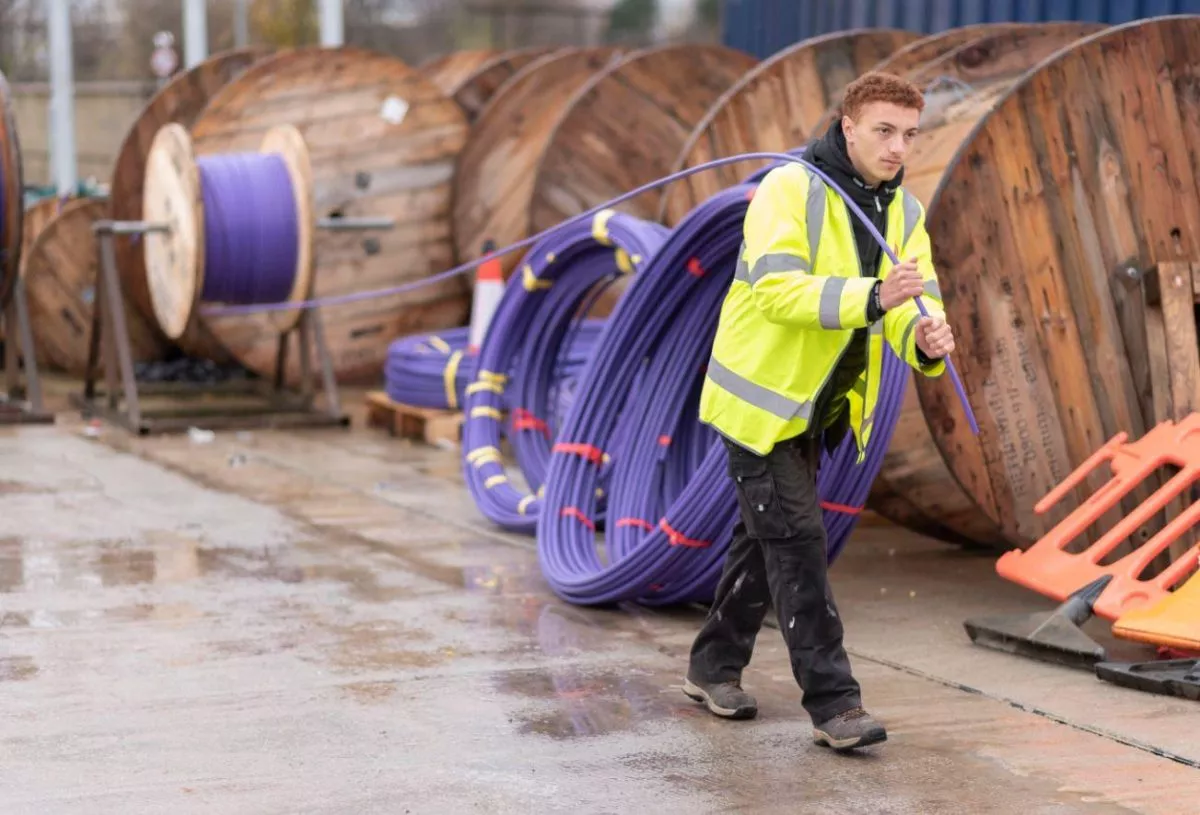 A new phase of Aberdeen City Council services are to benefit from a full-fibre boost after it announced plans to connect an additional 57 council sites to CityFibre's Gigabit City network.
CityFibre announced today, that it will extend its Gigabit City network in Aberdeen to reach an additional 57 public sector sites including schools, council offices, libraries and community centres, thanks to its ongoing partnership with Capita as part of the Scotland-wide SWAN programme. When complete, Aberdeen's next-generation full-fibre infrastructure will span over 100 kilometres across the city, connecting 166 key core public sector buildings. Every site connected will have access to state-of-the-art infrastructure and gigabit speed services, enabling it to harness the benefits of full-fibre connectivity. CityFibre's investment will serve to future-proof the digital capabilities of Aberdeen City Council, making it amongst the most future-fit in the country. Full-fibre access will help boost productivity across all council operations, improve its digital systems and services such as online administration and Wi-Fi. It will also provide the foundation required for smart city innovations such as smart street lighting, traffic management systems and e-learning opportunities in schools. Aberdeen's businesses community will continue to benefit from the network as yet more companies tap the benefits of full-fibre connectivity. Its Gigabit City status will also help to drive further inward investment, support new business start-ups, nurture digital skills and attract new talent to the city. Aberdeen became Scotland's first Gigabit City in March 2015, with a network that currently spans over 80km from Dyce and Bridge of Don through the city centre and down to Altens and Tullos.
James McClafferty, Head of Regional Development in Scotland at CityFibre
, explained: "Helping Aberdeen take hold of its digital future has been a truly collaborative process from the very beginning. This second phase of our strategic partnership with Capita and Aberdeen City Council will bring next-generation digital connectivity to even more of the city's public sites and organisations as our network expands. "To meet the demands of the digital age, it is paramount that we have reliable, future-proof connectivity to support new industries as they emerge and help traditional industries evolve. The city's potential as a key player in the UK's digital economy is starting to be recognised and our aim is to bolster this by building the full-fibre foundations it needs for continued success."
Councillor Douglas Lumsden, Co-Leader of Aberdeen City Council
added: "By partnering with CityFibre, we have positioned Aberdeen as one of the best connected cities with some of the best digitally-equipped public services in the country. As well as revolutionising our technology systems and services, CityFibre's ongoing investment has already helped attract top talent and continued investment at a critical time for the city. "Having already experienced the benefits of gigabit speed connectivity, in schools, libraries and our own council offices, we are excited by the prospect of having even more digital capability as a result of the expansion. We have no doubt the news will be well received by our public and private sector communities alike."
Eddie Cronie, Managing Director of SWAN
, said: "SWAN has become a crucial part of Scotland's national IT infrastructure. Since its launch, the network has brought better connectivity, improved performance and faster internet speeds for nearly 6,000 public sector sites across the country. As a result, key public service organisations are more easily able to communicate with each other, share their services and ultimately provide a better service for Scottish citizens." The news follows Aberdeen's recent qualification as a pilot city for the Department of Digital, Culture, Media and Sport's (DCMS) Gigabit Broadband Voucher Scheme, which launched last month. The scheme has been designed to help small and medium-sized businesses connect to full-fibre internet by providing grants of up to £3000 to cover installation costs. CityFibre has now built and invested in 42 Gigabit Cities UK-wide, including Edinburgh, Glasgow and Stirling in Scotland, with the ambition to grow this to 50 by 2020. For more information about CityFibre and the Aberdeen Gigabit City movement, visit:
www.cityfibre.com
or
www.cityfibre.com/aberdeen
.
ENDS
Issued on behalf of CityFibre by Weber Shandwick, PR Consultants for CityFibre. For more information or images, contact: Alexandra Dewar on 0131 460 3005 or Dyan Owen at Weber Shandwick on 0141 333 0557 or adewar@webershandwick.com / dowen@webershandwick.com
CityFibre News
With network projects in over 60 cities and construction underway to reach up to 8 million homes