NEXT STOP, PORTSMOUTH – CITYFIBRE'S 'IMMERSIVE' TOUR BUS ROLLS INTO TOWN, GIVING LOCALS CHANCE TO EXPLORE THE BENEFITS OF FULL FIBRE CONNECTIVITY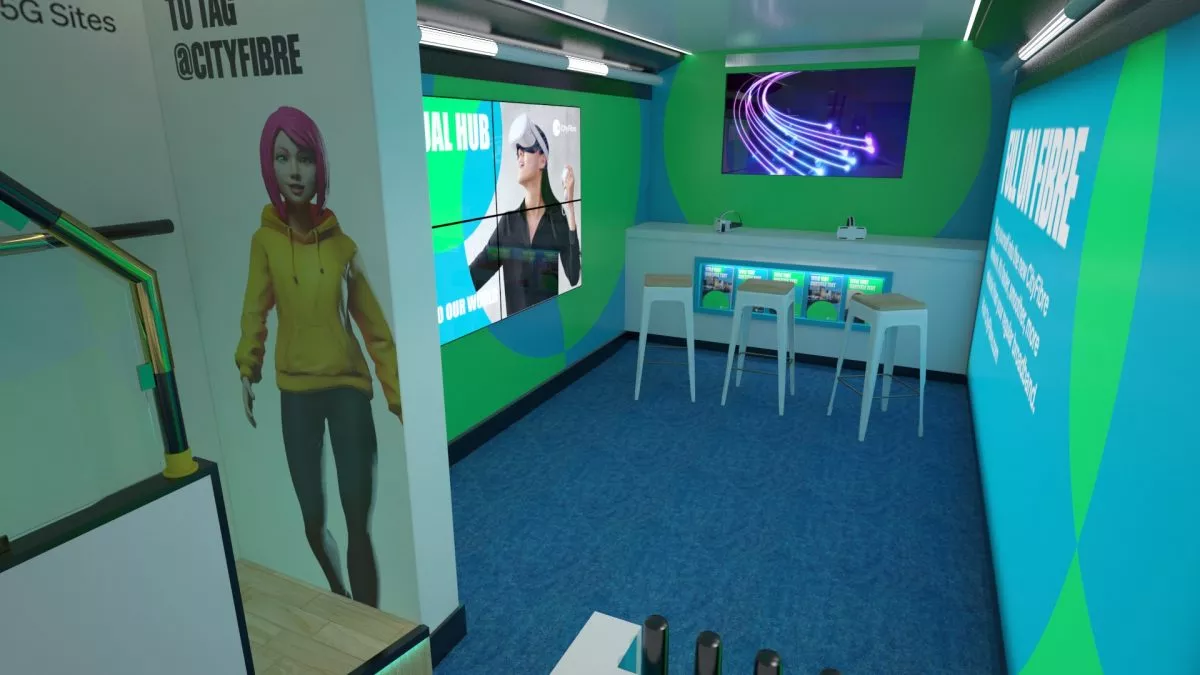 Gamers, tech lovers, gadget fans and their families will have the chance to create their own avatar and delve into the world of virtual reality when CityFibre's full fibre tour bus rolls into Portsmouth, this week 13th –15th April.
CityFibre, the UK's largest independent full fibre platform, is embarking on a nationwide tour to show people the benefits of a full fibre home broadband connection which kicks off in Portsmouth this month, before heading to Reading, Leeds, Coventry, and Peterborough, reaching its final stop in Aberdeen in June.
In Portsmouth, the tour bus will be parked up in GunWharf Quays from 13th-15th April. On board, locals can get stuck into a range of immersive games and challenges which show full fibre connectivity in action, including 'The Avatar Experience', where they can design and interact with their virtual self and create their own GIF to share on social media.
Prizes are up for grabs for those who play the 'Fibre Dash Game', which showcases the superiority of full fibre connectivity compared with traditional copper technology, while 'Home of the Future' - a virtual reality (VR) experience will unlock a digital world for tech fans where they can live out cool and quirky scenarios, from helping a chef to prepare a meal, to heading to the gym and jumping on CityFibre's rowing machine.
Locations around the UK are benefiting from CityFibre's full fibre rollout, which has already passed 2.7m homes with 2.3m designated as Ready for Service enabling faster and more reliable internet services fit for the future, with thousands of residents in Portsmouth already able to sign up to CityFibre's network through a range of consumer internet service providers.
Dan Ramsay, Chief Marketing Officer at CityFibre, said: "Full fibre broadband is proof that a new technology, offering faster and more reliable services, doesn't have to be more expensive. Millions of consumers will soon see their broadband prices increase significantly and given the already huge pressure on people's finances in this cost-of-living crunch, now's the time to upgrade to full fibre. Not only will they receive a better-quality broadband experience, from gaming to working from home, but they could save hundreds of pounds in the process."
"We look forward to welcoming visitors in Portsmouth on board the CityFibre tour bus, where they can have some fun trying out the tech and find out more about our project and full fibre availability in their area."
The CityFibre tour bus will be in GunWharf Quays, Portsmouth and open to visitors between the hours of 9am until 6pm each day.
People interested in upgrading their home's digital connection to full fibre can find out more about CityFibre's build, pre-register their interest and ensure they are updated on service availability here.
CityFibre News
With network projects in over 60 cities and construction underway to reach up to 8 million homes