Connectivity boost keeps Teesside Hospice connected as CityFibre rollout gathers pace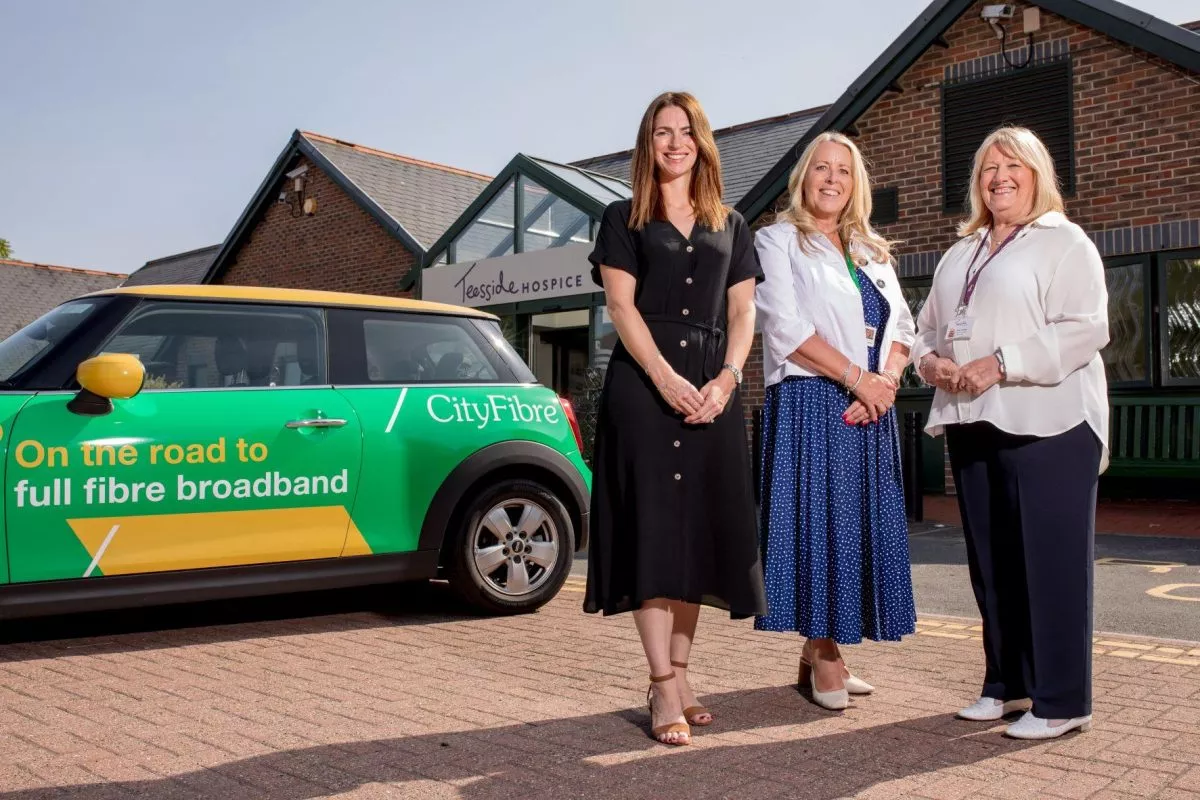 CityFibre, the UK's largest independent full fibre platform, and its local build partner MAP Group, have supported staff and patients at Teesside Hospice by donating wireless access points to boost coverage and overcome poor quality signal struggles.

Teesside Hospice, based in Middlesbrough, provides essential care for people and families who are living with a terminal illness. Its expert medical, nursing and allied health professional team offers pain and symptom control, psychological support as well as end of life care for thousands of local people every year.

With poor signal quality at the hospice causing disruption to key processes, including logging medical records and internal communications, as well as limiting the online experience for patients, the donation will give all internet users access to better connectivity ahead of CityFibre's full fibre rollout reaching the Hospice's area.

Teesside Hospice is in the planned build area for CityFibre's full fibre rollout, meaning the building will soon have the option of switching to full fibre enabled services – the fastest and most reliable available. Construction of CityFibre's £42m network formally began in May and upon completion, it will be in reach of nearly every home and business in the town.

Steph Carter-Smith, City Manager at CityFibre, said: "We're proud to support the essential work of Teesside Hospice and even more excited to one day connect them to our full fibre network, supercharging the way staff work, the care they can offer and the ability for patients to communicate with family and friends.

"Ultimately, we're hopeful that the network we're building in Middlesbrough, as well as other locations throughout the UK, will enable quality of life improvements for lots of hospitals, hospices and care homes, making a huge difference."

Anne Cooling, Head of Corporate Development, Teesside Hospice, added: "We want to say a massive thank you to CityFibre and MAP Group for their donations of Unifi access points that will significantly improve the Wi-Fi signal at Teesside Hospice.

"The current signal quality is poor and causing disruption to patient and visitor communications and having an impact on the efficiency of nurses taking notes for medical records.

"Our inpatient unit cares for local people at the end of their life and every moment matters. The improvements mean people who stay with us will be able to access fast and reliable Wi-Fi. This will enable them to keep in touch with friends and family who may not be able to visit, access videos, photos and programmes whenever they want, making a huge difference to day-to-day activities."

Full fibre networks, unlike many of the copper-based 'fibre broadband' services available today, use 100% fibre optic cables to carry data at light speed all the way from the home to the point of connection. This gives users speeds of up to 1,000 Mbps for upload and download, near limitless bandwidth and connectivity they can depend on.

Those interested in full fibre broadband can pre-register their interest with CityFibre to receive information when services are available, or check their postcode to see if services are currently available: cityfibre.com/residential
CityFibre News
With network projects in over 60 cities and construction underway to reach up to 8 million homes