CityFibre wins FTTH Operator award at the 2022 FTTH Council #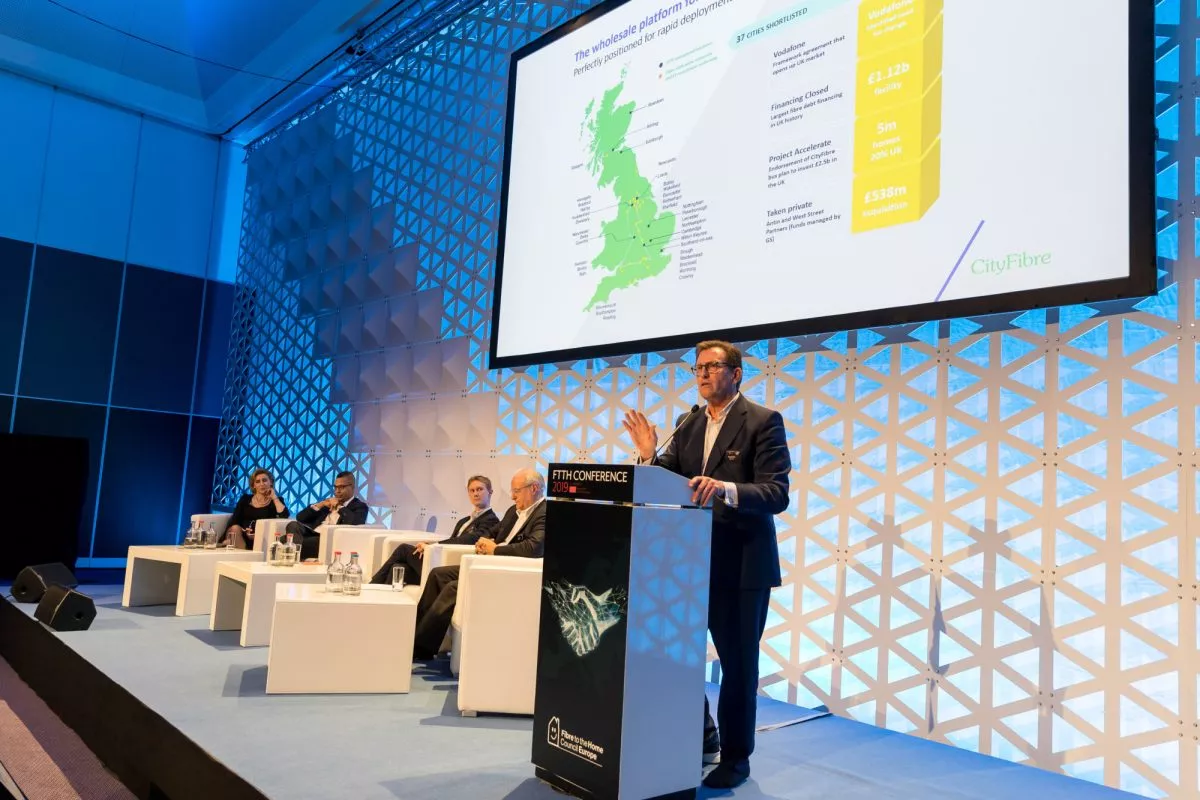 CityFibre CEO, Greg Mesch, receives FTTH Operator award at the 2022 FTTH Council.
CityFibre is currently rolling out wholesale, carrier-neutral Full Fibre infrastructure to a third of the UK market.
CityFibre's rollout has passed over 1.7m UK homes and over 1.5m of those are Ready for Service.
CityFibre, the UK's largest independent Full Fibre platform, has received the 'Operator Award' at this year's FTTH Council Europe annual conference in Vienna.
The FTTH Operator Award acknowledges an operator company that has significantly contributed to the development and roll-out of FTTH in Europe. CityFibre was selected not only based on the size of its network and investment made, but also on factors such as economic, political and supporting the competitive environment for driving FTTH availability in the UK.
CityFibre is currently engaged in a £4bn investment programme to roll-out dense Full Fibre infrastructure to up to eight million homes by 2025. This rollout continues to accelerate with deployments underway across more than 60 major metro areas, spanning 285 cities, towns and villages. To date, CityFibre's carrier-neutral wholesale networks have passed over 1.7m UK homes and 1.5m of those are Ready for Service, enabling residents to get connected in as little as five working days.  
Eric Festraets, President at FTTH Council Europe, commented: "We're delighted to award the FTTH Council's Operator Award to CityFibre in recognition of its extraordinary growth and impact on the UK market. It has fast become both a challenger and a leader in the sector and has blazed a trail for the carrier-neutral wholesale model. Some of the biggest names in the market including Vodafone, TalkTalk, Zen and Three have made CityFibre their network of choice and it is a pleasure to see it emerge as one of the UK's two largest Full Fibre platforms."
Accepting the award, Greg Mesch, Chief Executive Officer of CityFibre, said: "It's an honour for CityFibre to receive the Operator Award from the FTTH Council. We've long championed Full Fibre infrastructure in the UK market and have proven the demand from ISPs for a carrier-neutral wholesale platform. As our build to a third of the UK market continues to accelerate and more ISPs chose us as their preferred network, we look forward to unleashing the benefits of infrastructure competition on the whole UK market - faster speeds, more reliable services and better economics."
CityFibre News #
With network projects in over 60 cities and construction underway to reach up to 8 million homes