CityFibre gives MP for Bury St Edmunds first-hand look at town's full fibre transformation #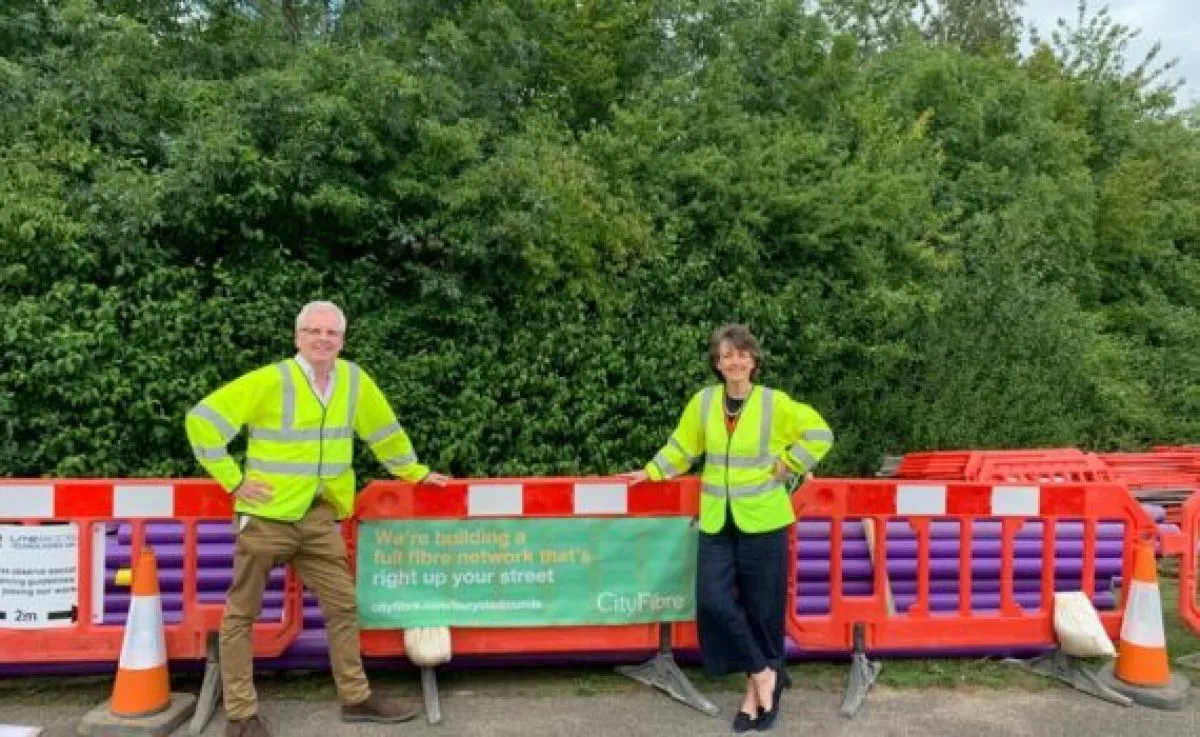 Work is continuing in the Moreton Hall area as CityFibre makes progress in delivering its gigabit-capable full fibre network, which, once complete, will reach almost every home and business in the town.

Jo Churchill, MP for Bury St Edmunds, has taken a closer look at Bury St Edmunds' £8m digital transformation project during a visit to CityFibre's full fibre rollout site at Moreton Hall.
CityFibre, the UK's third national digital infrastructure platform, began work on the network in March. The project in Bury St Edmunds forms part of a nationwide plan to replace the country's copper-based networks with gigabit-capable full fibre connectivity, something that's currently only available to around 15 per cent of premises across the UK.
The network is not yet live but once activated, services will be available from an increasing range of broadband providers. Across the UK, CityFibre is already working with launch Internet Services Provider (ISP) partner, Vodafone to deliver next generation broadband services, and TalkTalk is expected to join the network soon.
During the visit, Ms Churchill toured the site to observe the construction process and get a first-hand look at the next generation technology that will turn Bury St Edmunds into one of best connected areas in the UK. Once live, households and local businesses will be able to access the new full fibre service which is much faster and more reliable than existing networks.
As key workers, CityFibre has been asked by the UK Government to continue to expand the nation's digital capacity. All contractors are being urged to follow the social distancing protocols as outlined by Public Health England to ensure the build partners' and the general public's safety.
Charles Kitchin, CityFibre's City Manager for Bury St Edmunds, said: "We were delighted to welcome Jo to our full fibre site in order to raise awareness of how our state-of-the-art network will underpin the town's future growth and investment.
"Full Fibre has the potential to add millions into the local economy and transform everyday life, from working effectively at home to accessing e-healthcare. It's great to see that there is huge enthusiasm for our rollout and as we continue to gain momentum, we're excited to be connecting more and more customers and businesses."
Commenting on the progress of CityFibre's £8m project, Jo Churchill MP, said: "It was great to visit the team at CityFibre and learn more about their crucial work in providing the right digital infrastructure to benefit residents, business and communities for decades to come.
"This Full Fibre network in Bury St Edmunds has never been more needed and I am delighted to see such investment and commitment taking place within my constituency."
Specialist contractor Lite Access Technologies is delivering the project on CityFibre's behalf, with work already nearing completion in Eastgate Ward and Moreton Hall. Town-wide deployment of the full fibre network expansion is due to be largely complete by the end of 2021, with some services available from autumn. CityFibre is also delivering full fibre networks in Ipswich and Lowestoft.
To find out more about CityFibre's Gigabit City vision for Bury St Edmunds visit https://www.cityfibre.com/gigabit-cities and to register your interest go to https://www.cityfibre.com/residential/
CityFibre News #
With network projects in over 60 cities and construction underway to reach up to 8 million homes