Why we've been named a Times Top Employer for Women #
#ChangingItUp for women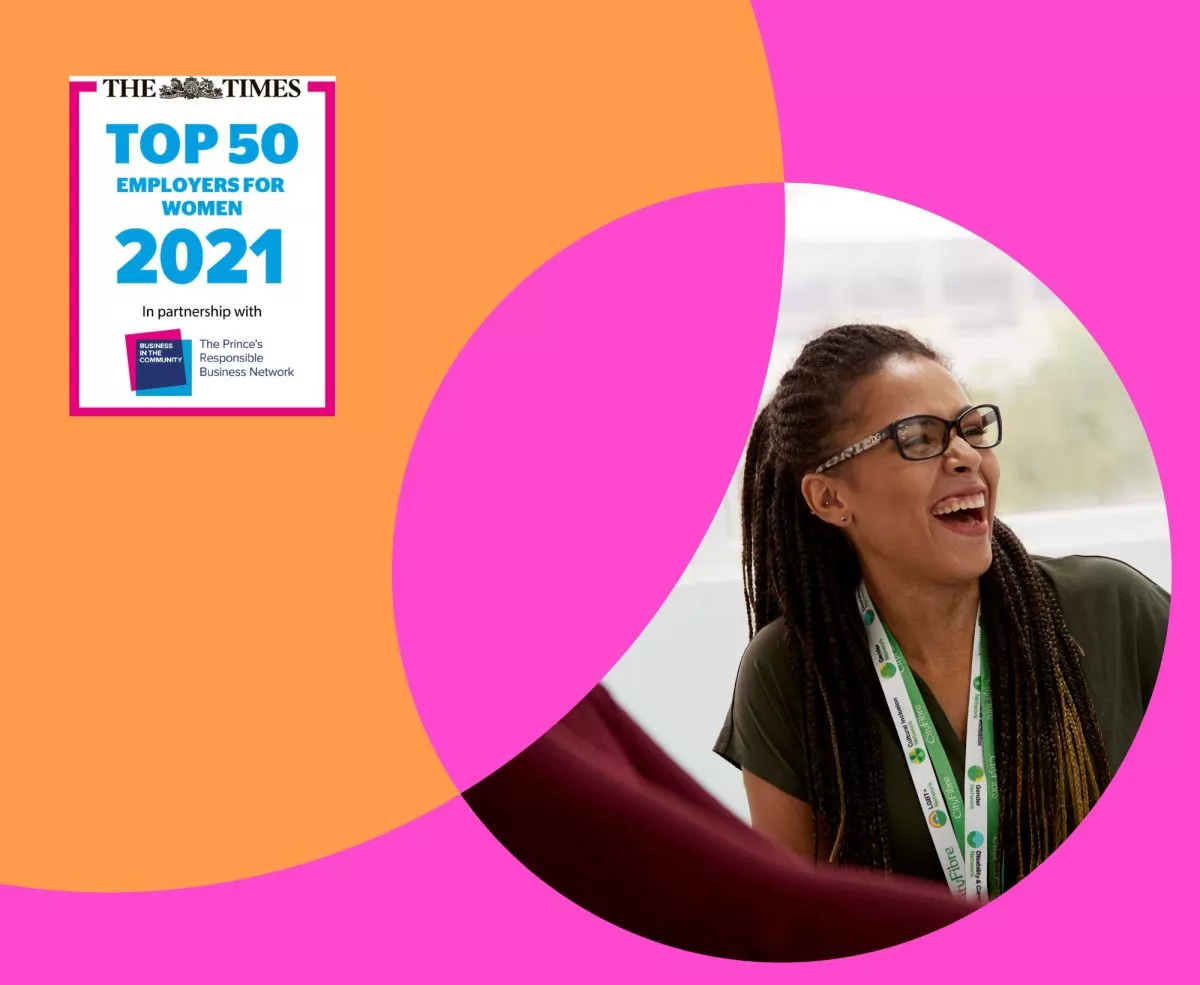 From our family-first policies to our best-in-class leadership development programme, we're proud to have created a workplace where diversity and inclusion is woven into everything we do. And now we're thrilled to have our efforts to champion gender equality recognised and rewarded by being included in this year's Times Top 50 Employers for Women.
To celebrate, we spoke to a few of our employees to find out how they think CityFibre is changing it up for women in the workplace.
We champion equality
We know there's a gender imbalance in the telecoms industry, and we're working hard to address it by creating an environment where everyone, regardless of background or experience, can thrive and feel included.
Sarah Parsons, our Director of Compliance, says:
"CityFibre has a visible, and vocal, ambition to address the gender imbalance across the business. We're investing to attract, develop, and retain the best talent and to create a diverse and inclusive working environment, where everyone is accepted, valued, and treated fairly without discrimination."
We don't just say it; we do it
It's one thing for companies to talk about diversity and inclusion but putting it into practice is what really counts. We've reduced our gender pay gap year-on-year, and thanks to our inclusive policies, 93% of our female employees would recommend CityFibre as a great place to work.
As our Regional Build Support and Onboarding Lead, Johnhenry Williamson says:
"CityFibre is a company that really does stand by what they say. We talk about inclusion because it matters, and throughout our organisation we all work together to ensure we are inclusive, and we treat people as equals. We're a company that recognises and rewards performance based on what we achieve, not because of an individual's sex, colour, or religion."
We give people the flexibility they need
We believe in putting our people first, giving them the flexibility and autonomy to manage their own time, and work where and when best suits them and their families.
Ellis Hancocks, a Resourcer on our Talent and Engagement team, agrees, saying:
"I'll be going off on maternity leave soon and it's such an exciting and daunting time all wrapped up into one, but thanks to our fantastic family-friendly policies I know I'll be supported throughout this entire experience, which is a huge weight off of my mind! I'm confident that I'll still be actively encouraged to drive forward my career at CityFibre, with lots of tools and opportunities to help me be the best version of me at work, whilst still having the flexibility to embrace my new family life."
We provide incredible opportunities for growth
We believe everyone who joins the CityFibre family should have the opportunity to take their career in the right direction for them. Our Aspiring Managers programme for future leaders gives those employees who have management ambitions the support and training they need to get there.
And Charlie Emerson, our Build Resourcing Lead Partner, is fast-tracking her career at CityFibre:
"In my opinion, CityFibre is a fantastic place to work for women. Since joining CityFibre I have been given multiple opportunities to progress within my career and am now taking part in the Leadership Development Programme. I am also an active member of the Gender Network and appreciate that CityFibre has Diversity and Inclusion as one of their highest priorities."
As you can see, we're #ChangingItUp for women, and men, in all sorts of ways at CityFibre. If you're ready to start changing it up, you can explore our nationwide career opportunities here.
Our Blog #
Read the latest news, updates and experiences from the CityFibre team and find out how we're Changing It Up